Handmade gifts are always a joy to give – and to receive! Today's blog comes from Gianaclis Caldwell, author of Mastering Basic Cheesemaking. Gianaclis shares a simple, delicious recipe for marinating feta cheese, which can be done with any store-bought feta. You can also kick your homemade gifts up a notch – at the end of the blog you can download a bonus excerpt from her book on making feta at home.
We're happy to offer a 50% discount on all our books, using coupon code READ50 (except New Catalyst titles or titles not yet off press), from November 28 until December 5, 2022, to help you create a thrifty, low-carbon holiday to remember.
One of our most popular cheeses (and still requested even years after we stopped production) was marinated feta. Or, as I liked to call it, Greek Salad in a Jar. Although it arose as a way to use smaller bits of feta after cutting up a larger block, it's worth making from scratch. Now, by scratch, I don't mean you necessarily have to become a cheesemaker, even though I'm rooting for that. In fact, feta is incredibly simple to make at home. If you're interested there's a recipe in my book, Mastering Basic Cheesemaking (see below for a bonus excerpt!).
To make marinated feta, start with any store-bought brand. You can buy large chunks in bulk if you're lucky enough to have a middle-eastern grocery around. It doesn't matter if it's not the "real deal" from Greece. (Don't tell on me.)
Here's what else you'll need:
Olive oil Rice Bran or other non-gelling oil (or buy "winterized" olive oil that won't gel in the fridge)

Dried Oregano and Basil

Powdered Garlic or Fresh

Dried Tomatoes, slivered

Kalamata olives (optional), sliced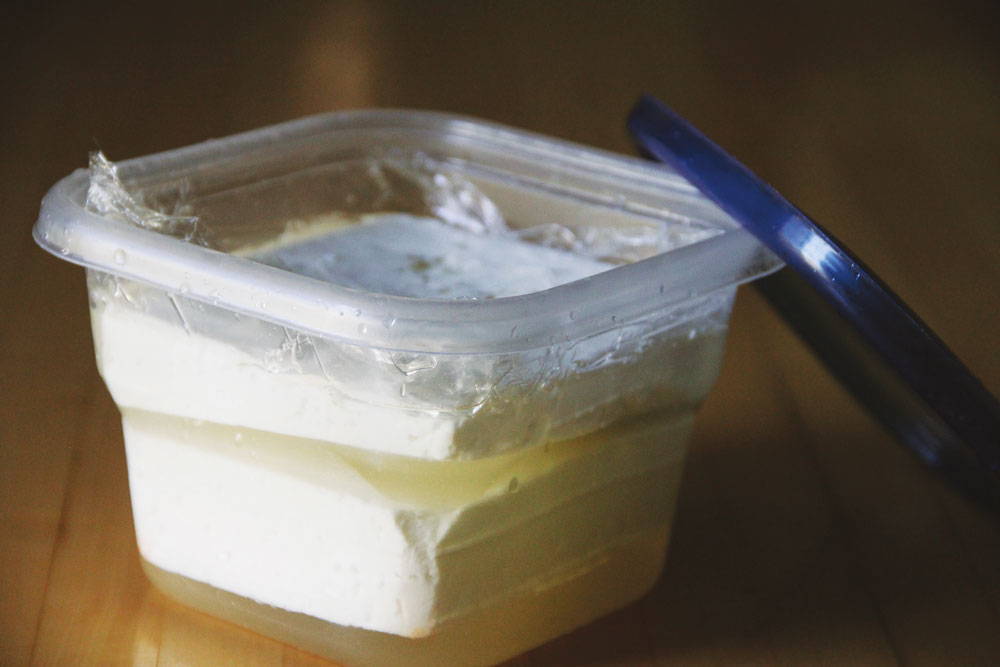 Cut the feta into ¼-1/2 inch cubes

Fill pint or half pint jars with cheese, packing a few slices of dried tomato around the outside so they show, and the same with a few olives.

Cover with oil (blend the olive and rice bran oil 50:50 if you don't want it to gel when refrigerated.

Cover and refrigerate.
That's it. If you make a little handmade card, tell people that this wonderful gift will last for months if stored in the fridge. When they've eaten all the feta, to the remaining oil, add red wine or balsamic vinegar, and shake for an amazing Greek Salad dressing.
By the way, you can marinate other kinds of cheese. A block cheese such as Monterey Jack or Havarti, or even young cheddar works great. Give it a little more time to soak, as it won't absorb the flavors as quickly as will the feta.
Happy Feasting Days!
Click here to download an excerpt from Gianaclis Caldwell's, Mastering Basic Cheesemaking
Gianaclis Caldwell is the head cheesemaker and owner of Pholia Farm, a licensed dairy well-known for its artisan, aged raw milk cheeses, and for its educational offerings including beginner to advanced cheesemaking courses. She also serves on the American Cheese Society regulatory and academic committee. Gianaclis is the author of several books including Mastering Artisan Cheesemaking, The Small-Scale Cheese Business, and The Small-Scale Dairy. She often writes and photographs for in culture: the word on cheese and other publications, and she blogs at gianacliscaldwell.wordpress.com.