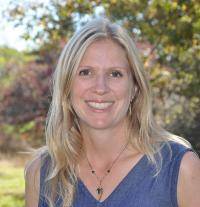 In today's post we speak with Kathryn Rose, co-author with Nevin Harper and David Segal of Nature-based Therapy: A Practitioner's Guide to Working Outdoors with Children, Youth, and Families. 
Kathryn holds a deep trust in the healing power of connection with the non-human natural world and believes that individuals are born with an innate drive and capacity towards wholeness and health. Kathryn completed a Master's degree in Transpersonal Counselling Psychology, with a specialization in Wilderness Therapy.
Look for our winning giveaway question at the end of the post! Be sure to check out our giveaway schedule for your change to win!
What are some of the main benefits of nature-based therapy for both patient and clinician?
The potential benefits of nature-based therapy for children are broad, and for a thorough understanding, please check out the book! But I can list some main ones that pop to mind here:
Experiential learning, full body engagement

Engaging the passions and interests of children

Alivening the senses

Pathway to mindfulness

Resourcing the nervous system

Builds capacity for awareness of the outer and inner landscape

Breaks down barriers to building positive therapeutic rapport

Can be a less intimidating context for children hesitant to do counselling

Provides opportunities to scaffold challenges

Learning to take healthy risks

Building connection with one's environment

Enhancing sense of belonging to the earth

Bonding with family members through play
Is there any situation where nature-based therapy would not be appropriate?
Yes, as in any therapeutic modality, the entire relationship begins with consent and assessment. So determining consent for taking the therapy into the outdoors needs to be clear and paired with a brief ecological assessment to determine if this approach is the right fit. Some things you would want to look out for would be:
Does the child/youth themselves have the desire/interest to meet in the outdoors, and how comfortable are they with that option (if they are not interested or comfortable...then always have an indoor option available). There are ways to bring nature connection into the office.

If the client has concerns about privacy that can not be met in your available outdoor locations.

If there are safety concerns for the child (ex. tendency to run off, inability to follow safety boundaries, unstable/unpredictable mental state)

If the weather is extreme enough that it could be either dangerous, or the level of challenge would detract from the benefits of counselling (ex. Lighting storm, wind storm, extremely cold temperatures, extreme heat).
What would you say to the clinician who may be hesitant to practice nature-based therapy?
I would say that an interest in the nature-based therapy approach needs to start with the clinicians own connection with the natural world, and ability to feel comfortable in the outdoors. If the idea of moving beyond the containment of the office walls is scary (the unknown) then start small by bringing elements of nature into the office, and explore with the client their ecological identity (i.e. their connection, history, associations with the natural world). Then work on finding a local park or wild space that is a place you love and cherish….get to know this space well and what it has to offer. When are the busy times in this space, what is the biodiversity present, what kind of clients might respond positively to this space….does it offer solace, excitement, bird life, is it great for games, or for walking? Pick a location that is close by, within the city, easy access to emergency services, cell service etc (not remote). Then just put out the intention that you would like to offer the option of nature-based sessions to your clients, and be clear about what that option might look like. Do be sure to check into your professional practice insurance policy as well to see if they cover the types of activities that you are doing (which in the case of a local city park might already fall within your commercial general liability).
---
Winning Giveaway Question
And our winning question posted on Instagram

This book excites me! I like to think of our ecological home beginning with our own body, then our relationship to community, including the planetary flora and fauna and with completeness I include the cosmic. I am wondering what the authors see as the difference between nature, capital Nature, and natural order of life or nature's order?
I think we feel similar to your sense of things in that the very premise of nature-based therapy is that we Are nature...not separate from her. This is why our society experiences so much 'dis-ease' as we are not caring for ourselves by not caring for the Earth and often imagining a separateness that leaves us feeling empty, alone and unregulated. Traditional western psychology has focused mostly on intrapsychic processes and relations with other humans, and little on our relations with natural environment or cosmos/spirit.