Originally published on June 6, 2019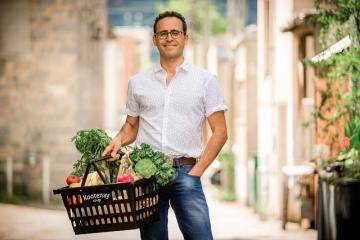 In today's blog interview we speak with Jon Steinman, author of Grocery Story: The Promise of Food Co-op in the Age of Grocery Giants.   
Jon is currently on his book tour visiting 130 food co-ops and counting across Canada and the US.
This is more than just a book tour." says Steinman, "It's a rallying together and celebrating of the power of people to come together to own their grocery store." Wondering where your closest food cop-op is at? Check out Jon's interactive map.
What would you recommend as the first steps for someone interested in starting a food co-op?
Every successful startup food co-op begins with a dedicated core group that's ready to invest a minimum three years to build momentum. Then it's time to get informed and for the group to become experts and speak with one voice. The Food Co-op Initiative resources are essential as is the Grocery Story book. Begin to invite other organizations into the mix including regional food organizations, economic development, and elected officials.
What are some challenges that a food co-op faces, that a more traditional grocery store may not?
Food co-ops are challenged by their scale relative to the big grocers. This introduces another challenge - to effectively communicate the difference that sets cooperatives apart. Grocery shopping is generally a very passive experience and breaking through this is a notable challenge. For co-ops to make it, I think it's necessary to invite eaters to become 'active' shoppers who are willing to engage with grocery shopping in an entirely new way.
In what ways can food co-ops help to break down barriers to healthy, affordable food in marginalized communities?
It's necessary to identify how the products on the shelves may discourage these segments of the community from shopping at the store. It's also important to ensure that the people working in the store are representative of the demographics and diversity found within the community where the co-op is located.
Winning Giveaway Question
What do you feel is the best way to inform/educate people about the economic impact that a co-op can have on a community that has never been exposed to the co-op concept?
I encourage people to take notice of the big grocery store trucks rolling into our communities. They roll in with food, unload, but they're not leaving empty, they're leaving with all that community wealth that people and local businesses have worked so hard to bring in. By being locally owned and with profits remaining locally, co-ops help keep more money circulating close to home. Click here for more info on this topic.
has studied and worked with all things food for over two decades. He was the producer and host of the internationally syndicated radio show and podcast Deconstructing Dinner, once ranked as the most-listened-to food podcast in Canada. Jon is the writer and host of "Deconstructing Dinner: Reconstructing our Food System" – a television and web series currently streaming online. Jon coordinates and curates the annual Deconstructing Dinner Film Festival of compelling food documentaries and was an elected director from 2006-2016 of the Kootenay Co-op – Canada's largest independent retail consumer food co-op, serving as Board President from 2014-2016. He lives in Nelson, BC.