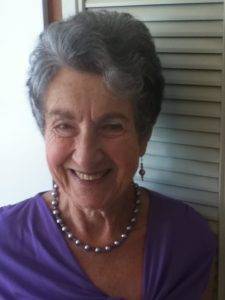 Today Helen Wilkes, the author of The Aging of Aquarius: Igniting Passion and Purpose as an Elder, shares Pandemic Poem.
In the poem Helen questions if the pandemic is a wake-up call to all humanity, and if so, what will our answer be?
Helen's book is available in paperback and ebook here, and as an audio book here.
What if this is some kind of mad wake-up call
Forcing us to re-think issues large and small?
What might the universe be trying to tell
Those of us who are mercifully safe and well?
With distractions and gatherings all placed on hold
What's bubbling within us that we ought to behold?
Why is it so awful to spend time alone?
What gnaws at our subconscious, like a dog with a bone?
If, in Wuhan, fume-filled skies have become clear,
and birdsong can once again reach the human ear
Is the universe saying that it needs a rest
And that for now, we must stop doing our best.
So much of "our best" means that the planet we strip bare
Maybe we must do more than re-cycle with care.
"Give us jobs!" people cry. "We want to earn our daily bread."
Yet how much is spent of the Joneses keeping ahead
It's a vicious cycle, but in our material world, when do we have enough?
Is there a way to live well without acquiring still more stuff?
And will peace ever come unless we learn to share
In some global way of which we're now unaware?
I picture a Wuhan seamstress bent over her sewing machine
I picture her man scrubbing hands that refuse to come clean
I picture their children, learning about lands near and far
Dreaming of the day when they too will own a car
I picture Italy without tourists disgorged from some huge ship,
An Italy where families on balconies their Prosecco do sip,
An Italy where amateur Carusos from their windows now sing
Seeking notes of cheer to their neighbours to bring.
I find it inspiring, this desire to reach out,
"Bravo, bravissimo," I deeply long to shout.
And here at home, a neighour I barely know
Has ever so kindly let me know
If there's ought that I need, I should just pick up the phone
She's worried about me, a senior who's living alone.
Gratitude is over-used, yet what can I say?
How blessed I feel to be alive on this day!
A day of blue sky, though in the east, snow softly falls
And from Somewhere Beyond, a voice gently calls
"Helen, Everyone, do what you can, however small
Then be proud of what you've done; stand tall."
Even though no banners they may have unfurled,
Not sinners but saints I perceive among those in my immediate world
So to hold up your head,
Be glad you're not dead  
Let's turn this scare
Into a time to dare
Dare to re-assess, dare to go within, dare to take stock
Dare then to go forth, solid and sure as a rock
The times are shifting, the future unknown
But our humanity will at least have grown.
---
Helen Wilkes, Ph.D. is an energized octogenarian who survived a lifetime of hardships ranging from fleeing Nazi Germany as a child to navigating personal and professional obstacles as an adult. She persevered and created a richly rewarding life. Retirement has been the icing on her cake, bringing inner transformation and freedom. Helen is author of the award-winning book Letters from the Lost. She lives in Vancouver, Canada.