We're excited to be kicking off our Spring Gardening Sale. On the blog, we have an excerpt from Climate-Wise Landscaping: Practical Actions for a Sustainable Future by Susan Reed and Ginny Stibolt, one of the books featured in our Spring Sale! Today, Reed and Stibolt explain how to design a perennial garden that serves your local ecosystem.
A hundred fifty years ago, the European upper classes were expected to have extensive perennial and annual gardens filled with mostly exotic plants trimmed to a fare-thee-well. Even present-day garden magazines and TV shows set impossibly high standards for luscious border gardens; photos and videos show everything in full bloom and perfectly trimmed. The reality of dealing with living plants is that it is an ongoing process, not just a snapshot in time; a more natural result can be a beautiful array of plants decorated with the birds and butterflies that find food and refuge there.
Perennial gardens and borders provide important habitat for a wide variety of wildlife in transition areas at the edges (ecotones) of groves or wooded areas. They can be used as foundation plantings instead of shrubs that outgrow the space and need constant trimming or periodic replacement. In addition, herbaceous gardens can serve as butterfly gardens and include a variety of edibles
Design the size and shape of the garden or border for ease of access. Keep beds narrow so nothing is out of reach, or build narrow paths in the beds between the planting areas or next to fences or buildings.
If the garden abuts a lawn, design the edge next to the lawn so that there are gentle curves and no vertical dividers between the lawn and the bed. The goal of this interface is to allow the mower to make one pass along that edge with no need for further power tools. See Action Topic I-2 on page 23 for more information on reshaping lawns.
Choose the plants. As discussed in VII-1, choose the right plants for the location. If the border is in a shady location, such as the north side of a wooded area, one or two spreading fern species can work very well as an understated border. If the garden is a wide swath in a sunny area that's highly visible, a large number of plant types may work well for a more exuberant space. Two or three bunching grasses planted in a grouping will give the space structure, but then you can add a variety of forbs that bloom in different seasons. If there are low spots, select species that thrive in that microclimate. (Forbs are herbaceous flowering plants that are not grass-like.)
When purchasing plants, look for smaller, younger specimens; they will save you time and money in two ways: (1) they will adjust more quickly to the garden, so less irrigation is needed; and (2) they are more likely to survive, so you won't need to replace them. In addition, younger plants are also more climate-wise, because the grower can produce them more quickly, which uses less water and fewer resources.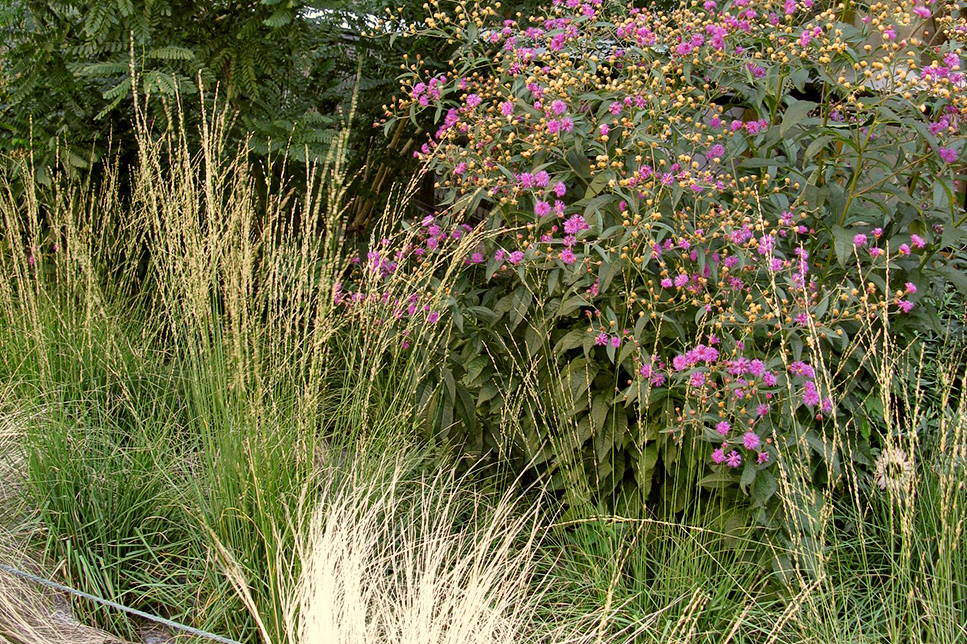 Avoid deadheading in a native landscape. Traditional gardening guidelines say to cut back the dead flower heads to make them look neater and make some plants bloom again. Humans and pollinators enjoy the extra flowering cycle, but maybe the seed-eating birds needed that seed for their young, or maybe the extra flowering took a toll on the plants (after all, if nature designed the plants to have a fallow year in between flowering years, maybe there's a reason!). For a lower-maintenance yard, just let the plants follow their natural cycles. See Action Topic VII-2 on page 205 for information on pollinator gardens.
Last Thoughts
Even though perennial garden borders are planted mainly to create something special and beautiful, each of these gardens is a working ecosystem that is constantly changing, just like every other part of our landscapes. Plants are not isolated entities but participants in a system constantly in flux with the other inhabitants— both plants and animals. So even a carefully designed border garden will change over time— some plants will die, while others may grow well for decades. This is something we should learn to welcome. New plants and combinations can be added along the way to add variety and new beauty and attract a new set of pollinators.
This book is the ideal tool for homeowners, gardeners, and landscape professionals who want to be part of the solution to climate change. If you would like to pick up a copy of Climate-Wise Landscaping, it's currently 35% off as part of our Spring Sale with the code Spring35.
Keep your eye on our blog during the sale for excerpts from the following titles: The Ever Curious Gardener, Keeping Bees With a Smile, Your Indoor Herb Garden, The Organic No-Till Farming Revolution, and DIY Autoflowering Cannabis. The sale is ending on April 20, 2021 so take advantage of these great prices today and happy gardening!
Sue Reed is a registered Landscape Architect with thirty years' experience designing sustainable landscapes that are ecologically rich, energy efficient, and climate-responsive. Sue served for 14 years as adjunct faculty at the Conway School of Landscape Design and has led numerous workshops on the subject of ecological landscaping. Sue is the author of Energy-Wise Landscape Design, for which she also provided much of the photography.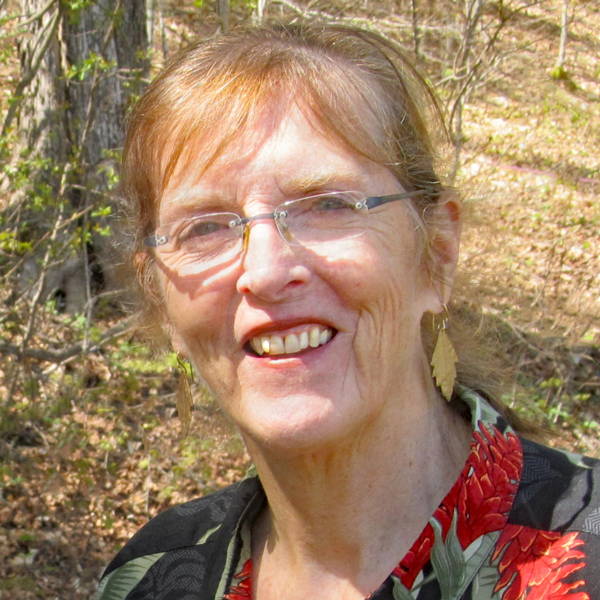 Ginny Stibolt, has an MS degree in Botany from the University of Maryland, and moved to Florida in 2004. She has written 4 peer-reviewed books on gardening in Florida and hundreds of articles to educate Floridians on how to build sustainable landscapes.